oolaboola -- an opensource cyber-shamanic noise-maker
News 2000/2/25
Version 0.3.1 fixes a few bugs, mostly build and linkage problems many people were having.
oolaboola Screen Shot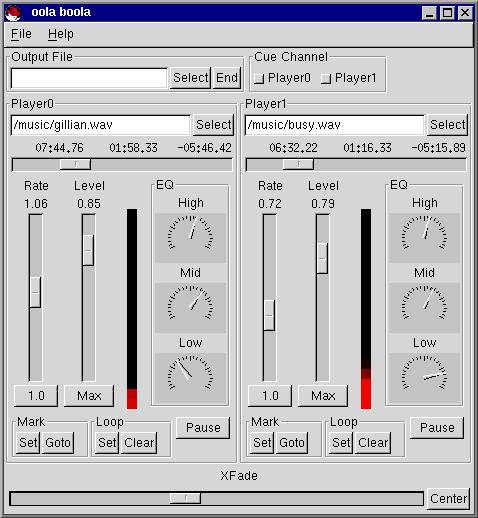 What is it?
oolaboola is an opensource system for mixing sound files in real-time, while varying their rate of play, amplitude level, etc. In other words, it's a digital DJ tool.
Version 0.3.0 Now Released!
Binary package available (a RedHat 6.0-friendly RPM)
Much easier to use MIDI binding architecture (works nicely with my PhatBoy)
Command line options complement rc file and environment variables
A man page!
Pretty level/hold lights
EQ
Optional quadratic interpolation
Much greater efficiency and robustness
Bug fixes
You can retrieve the latest versions of oolaboola at http://www.hyperreal.org/~est/oolaboola/download
Features
Distributed under the terms of the GNU General Public License
The cross-fader never wears out! :)
Plays .wav files of various formats.
Can use MIDI input
Digital file output.
Set and goto marks.
Create loops
Can record your actions for later playback
Efficient (mixing two files takes about a Pentium 50 :)
Low latency (time between your action and the change in output)..down to 1/100th second depending on the limits of your OS/hardware.
Separate output to `cue' channel
Control rate-of-play..from 0 to 2 X in increments of .001
Modify it's behavior with a python rc file
Coming soon
Authors
Eric S. Tiedemann..and maybe you.
Other Great Opensource Music Pages